Now here's an elusive lady, who only had a very fleeting moment of glory in the Vampirella outfit.
Cristiva (a.k.a. Christiva) had a relatively short spot in the limelight during the mid 1990s. At 5' 8" (1.73 m) and 35B/C-24-34 she amply posed as Vampirella for Femme Fatale Volume 5, issue 5 wearing the same/similar outfit as Talisa Soto in the Vampirella movie.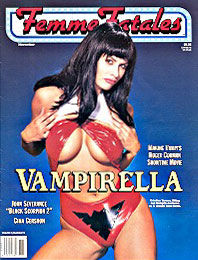 There is very little information about Cristiva on the internet, and latterly she seems to have vanished into thin air.
However she does have a couple of films under her belt, Day of the Warrior (1996) and Arranged Marriage (1996). Both films weren't box office hits ...
Cristiva also managed a spot on the 1996 Hot Springs Hotel: Movie People Television show.
Apart from her birthday being November 30th, there is a dearth of information on Cristiva.
If you can help me fill in some of the gaps please contact me.