Vampirella - The Film - 1996
In 1996 Vampirella was launched upon an unsuspecting world.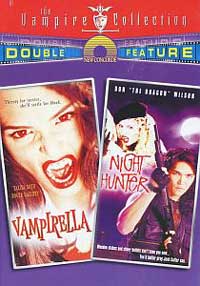 I have yet to meet a vampirella fan who really likes this film. Definitely a "B" movie, it starred Talisa Soto in the lead role, with Roger Daltry of The WHO playing Dracula. Perhaps it is the influence of Hammer films' classic Dracula films, but a short, English Dracula with blond curly hair really wasn't convincing. Nor was Talisa Soto as Vampirella ... and her costume looked like it was made out of red plastic rubbish bags.
The story harkened back to the Warren era with Dracula being an escaped criminal fleeing to Earth from the planet of Drakulon, pursued by vampirella seeking revenge for Dracula's killing of her family ... The sci-fi sets of Drakulon were not over inspiring, and the story on Earth was a bit tepid.
Not necessarily the actors fault, miscast, miswritten and low-budget this film had "doomed to fail" written all over it!
However there are probably enough Goth, vampire-philes and Vampirella fans out there to keep it selling at a trickle via eBay and Amazon - either in it's own right or part as a double DVD vampire set paired with Night Hunter (I dread to think what that film is like!).
I have this film on both DVD and VHS, but it isn't high on my "must watch again soon" list. I appreciate the try guys, but no prizes for second best.