Born in New York in 1967, Mirian Soto started her career as a model. Apparently, she was given a nickname "Lisa" where she once worked and was forever hearing, "Tell Lisa to do ..." so she coined the name Talisa (Tell-Lisa).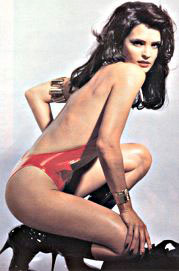 Her big break into films came with the 1989 James Bond film, Licence to Kill, and then a string of films followed to the present day.
In 1996 the film of Vampirella was released upon an undeserving world with Talisa Soto playing the lead role. The film left a lot to be desired and there are many, many second hand copies available to buy on eBay and similar for pennies - which speaks volumes about the film! You have to be a really avid Vampirella fan to watch this film more than once ...
Talisa was actually not a bad choice for Vampirella, she certainly looked the part. I'd like to say that she filled the costume with distinction, but the costume was abysmal - it looked like a bunch of red plastic bin bags tied together with bungee straps.
She distinguished herself much more in the Mortal Kombat films (1995 and 1997) as Princess Kitana, but she was working within a better budget and had a costume designer whose materials weren't trawled from the local rubbish tip.
I'm sorry if I seem to have a pejorative attitude to the Vampirella film, but every true Vampirella-phile cringes at the very mention of it! Talisa Soto is a fine actress and a very attractive woman, she was just a bit inexperienced when she agreed to do the film. I suppose everyone is entitled to make one big mistake in their lives ...