The Models
Nella Swan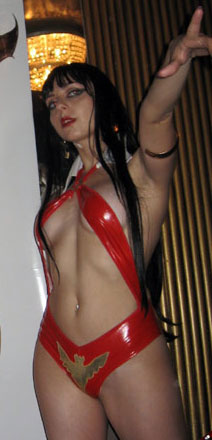 August 2009 saw the first ever Vampire-Con in Hollywood. The Vampire-Con organisers teamed up with Harris Publications to make the event part of the 40th anniversary of Vampirella. There had been talk of a new "model search" during the year, and many hopefuls sent in their resumes to Vampire-Con. The applicants were whittled down, one by one, until only two remained and Nella Swan was chosen by the audience as the new Vampirella model on Sunday the 16th.
Nella posed for all the publicity shots and was the "guest of honour" at the final event of the Con - Vampirella's Ball. Nella played her part talking to fans and the media alike, and is quoted by Fox News as saying that it takes "a certain attitude, creativity, strength and beauty" to be Vampirella.
And after the ball? Nothing ...
Nella told me that "Unfortunately, after I won I was told that I was Vampirella for that weekend only. It upset me very much since I felt like I was mislead. I wished and hoped that Harris would use my images and me as Vampirella in the coming year."
Nella wasn't the only one who thought that the Vampire-Con event would lead to a modelling job as Vampirella, but declining sales and the impending sale of Vampirella to Dynamic Forces robbed Nella of her role as Vampirella and many fans the opportunity to see her on the covers of future comic books.
I, for one, am sorry that things ended this way. Nella is a wonderful person and certainly looks like she was born to wear the red and gold!
Nella Swan was born and raised in Yerevan, Armenia. Since the age of six she has been immersed in dance - ballet, jazz and modern.
As she progressed she moved into theatre and specialised in Middle Eastern Dance.
Moving to the United States, Nella found she had the freedom to express herself, heart and soul, in her dance. Incorporating drama, flair and whimsey in her performances with creative ideas, experimental music and costume design Nella is gaining a name for herself in the field of the arts.
When Nella is not dancing, modelling, acting or writing she studies Psychology! Having already gained a B.A. from USC and an M.A. from Pepperdine, Nella is now working on her Ph.D.
Good luck with the Psychology, Nella. Show them all that you can have both beauty and brains.