Louis Paradis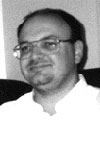 Louis Paradis hails from Montmagny, in the Canadian province of Quebec. As a child he discovered the joys of Hergé's Adventures of Tin Tin and Asterix the Gaul. If you aren't familiar with these comic strips then it's worth looking them up, especially Asterix as the humour is wonderful and crosses national and cultural boundaries.
As his interest in comics grew, Louis decided that his artistic skills could be used to create his own comic, and at the age of fifteen he drew his first comic book. It was called 'La Rage de L'Eau-de-Vie', and 500 copies were printed.
At eighteen he studied graphics at college and found his artistic endeavours leaned towards his love of comics. It was inevitable that Louis commenced a professional career as a comics artist. He worked with several artists, including Michel Grant, Francis Pelletier, Salvador Dallaire, Pierre Hamon and Philippe Aubert (who became his scriptwriter for many years). He collaborated on two religious albums ('Abraham et Moïse' [1993] and 'Les Premiers Chrétiens' [1998]), several magazines, (such as Bambou, L'Océanic de Rimouski, Vidéo-Presse and Sextant), as well as some USA comic books (The Warrior Bugs [2002] and Warrior Nun: Black & White [1997]).
I have collected several hundred scans of Paradis' artwork going back quite a few years ... Enjoy!