Bo Hampton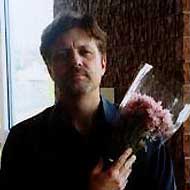 After graduating from the School of Visual Arts in New York, Bo Hampton drew, wrote and painted comics and graphic novels for fifteen years. Known for his realistic style, classic moments include "Viking Glory" a 96 page graphic novel for D.C. Comics, "Legend of Sleepy Hollow" for Tundra publishing and "Verdilak" co-written and painted for NBM publishing. Slightly more mainstream, he has produced artwork for the New Mutants, Thor and Batman.
Bo was a professor at Savannah College of Art and Design, before story boarding animated shows and TV commercials. He has worked on "Extreme Ghostbusters" for Sony (T.V. and full length video feature) as well as Superman (Warner Brothers) and Batman animations for the Cartoon Network.
Commercial clients include Bellsouth, Coca-cola, Motorola and many more "household names".
With his Batman connections I suppose it is no wonder that he has produced artwork which pairs Vampirella with the Dark Knight.
If nothing else, (IMHO) Vampirella is a lot prettier than Batgirl!
Bo's latest graphic novel can be seen on Amazon.