José "Pepe" Gonzalez
José Gonzales is, without doubt, one of the best Vampirella artists ever, and he is one of my all time top ten Vampirella artists.

His renditions of Vampirella for Warren comics set the standard for others to follow and not many have been up to the task.

After the demise of Warren Publishing, José Gonzales vanished without trace from the American comic book scene and his talent was sorely missed. Harris Publishing managed to track him down and commissioned him to do his first Vampirella work in years - the cover for the key comic book, Revelations.

IT IS WITH GREAT SADNESS THAT I LEARNED THAT JOSE "PEPE" GONZALEZ DIED AT THE AGE OF 70 IN MARCH 2009. MY HEART GOES OUT TO HIS FAMILY AND FRIENDS. HE WILL BE SORELY MISSED.
José "Pepe" Gonzalez was born in Barcelona in 1939. His talent for art came to the fore when he approached the Select Illustrated Agency (S.I.) at the age of seventeen. Josep Toutain, the manager, tested the young Pepe by asking him to reproduce a (Cisco Kid) cartoon strip by Luis Salines.
To the astonishment of the whole agency, the following day Pepe brought in an perfect reproduction of the original artwork, identical down to the stains on the paper! Impressed with his brilliant work (and photographic memory) Pepe was accepted on to S.I.'s books.
His first work was for U.K. based Fleetway Publishers, drawing for magazines Valentine, Blue Jeans and other similar romance based publications.
With a growing reputation for drawing the female form, it is no surprise that Warren Publishing contacted S.I. and the world was introduced to the "definitive" Vampirella.
José Gonzalez became a legend in the American comic book market, winning praise from both fans and his artistic peers. At the 1971 Comicon Awards, José Gonzalez won the coveted Best Art of the Year award for "Death's Dark Angel" (Vampirella #12), and Frank Frazetta said that no one drew women as beautifully as José Gonzalez.
During his time working with Warren, Pepe Gonzalez only created six Vampirella magazine covers, but his work was to be found in many, many pages of Vampirella stories. His art was featured in the 1978 Vampirella calendar, a car bumper sticker, a jigsaw puzzle, and the famous 6 ft door poster.
When Warren Publishing finally shut up shop, Pepe Gonzalez returned to Barcelona where he continued his artistic career. His pencil, charcoal and oil works display a mastery of the human form, both clothed and nude. In half a century as a painter he has been widely exhibited throughout Spain, and is considered a Spanish "national treasure".
As a bohemian artist, he never worked to achieve artistic fame or fortune, merely for the love of his work. This has lead him to times of extreme poverty and times of comfort, but never to wealth.
His interest is primarily in drawing the human body, and he is equally adept at men and women. He also likes to render horses and other animals, but his real love is portraits, and he has often been commissioned by his fellow artists in Barcelona.
An acquaintance in Barcelona states:
"He works with little or no reference. If asked, he could sit down and draw from memory portraits of film stars, particularly Marilyn Monroe, one of his favourite celebrities. And he could draw her in a number of styles: from photographically real to semi-abstract-surreal. The same could be said of any number of heroines, including most recently Barbie. Yes, that little billion dollar toy beloved by young girls throughout the world. The prestigious European Publisher, Egmont Press, jumped for joy when they learned that Pepe would draw Barbie for them.
"His influences are all over the place: from the pre-Raphealites to Frank Frazetta; from pop sixties to Durer. It is alleged that he was heavily influenced by Alex Raymond, creator of Flash Gordon.
"Pepe Gonzalez does not acknowledge artistic influences in his style of art, simply saying of himself: "I am just a pencil pusher." This is not tongue-in-cheek, but a simple honest statement.
"He works almost exclusively in graphite mediums. He eschews oils, acrylic, water-colours, in favour of pencils (both coloured and black) and inks."
Until his death he lived somewhere in Barcelona, where he was born. His exact address was known only to a very select few.
| | | |
| --- | --- | --- |
| | | |
| | | |
| | | |
| | | |
| | | |
| | | |
| | | |
| | | |
| | | |
| | - | |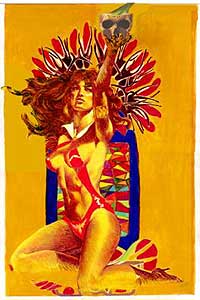 I saw these two items for sale on eBay in December 2006. They aren't signed and the seller didn't say who the artist was. I knew the (Spanish) seller has more than a passing knowledge of José Gonzalez, and has sold a number of Pepe's items, so I guessed that they may have been Pepe's work.
In 2008 I received an email from Sharon Avery-Fahlström of the Museu d'art contemporani de Barcelona (MACBA) who said "In the early 70s I represented Pepe and all the other artists of Selecciones Illustradas (SI) in the United States. I know Pepe's work well enough to say that neither of the two works you found for sale on E-bay are Pepe's."
In May 2009 I received a telephone call from Spain, and in between my almost nonexistent Spanish and Joan's basic English I discovered that the art was by Rafael Losada, and found out why his art reminded me of Pepe's.