Warren Vampirella Sticker
These stickers were available through mail order from the Warren Vampirella magazines from the early 1970s.
This is THE classic Vampirella pose featuring the art of José Gonzalez.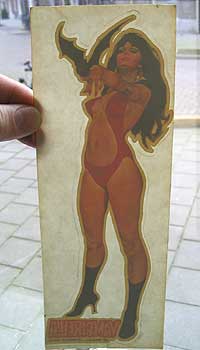 Dewey Cassell contacted me about this sticker to say "One was the traditional sticker you usually see, and the other was a window sticker, with a reversed image, intended to be placed on the inside surface of a window - on a car or house, I suppose - so you could see it through the window. In all my years of collecting, I only ran across the window sticker once."
Well, Dewey, here's a picture of the window sticker.
I have one, in wonderful condition, with thanks to Marc Mokken of Art of Comics in Holland.
Click here if you would like to see the traditional sticker and the window sticker side by side.