Vampirella Posters
Gonzalez 6 ft door poster

There are three, possibly four versions of this poster which has become one of the all-time classic renditions of Vampirella.

Originally advertised in the back of the Warren Vampirella magazines, the first version is the most sought after item.

Available by mail order only from 1972 onwards this poster can be dated by the fine print at the bottom of the poster which clearly states it is a Warren product.

Later Harris comics re-released the poster, identical in every respect to the original Warren poster but with the Harris logo and copyright info instead of the Warren info. Only produced for a limited time it is quite a collectable item.

Thankfully, Harris reissued the poster in the Autumn of 2007, providing a third version of this poster, and a chance for recent converts to Vampirella to get their hands on a mint poster. Note; this poster doesn't have the Harris logo on it, just a copyright statement.

One enterprising eBayer is offering the "fourth version" of this poster and it seems to sell well at about $50.00 USD. The advert for this poster states that it is a "reproduction". I have no idea if there is any fine print on the poster or not (or what is says) as I haven't got a copy.

Not an "official" item, but not a bad idea for the collector like myself who can't easily afford the Warren originals. If nothing else, the reproduction would be ideal to hang on your wall while your original posters stay pristine in their cardboard tubes!

2009 saw a genuine fourth version issued by Harris, with a special 40th Anniversary logo, and it looks like 2010/ 2011 may see a fifth version which could be the 40th Anniversary poster again, but this time sporting a Dynamite Entertainment logo.
Warren Ltd Edition Gonzalez Poster
This is (reputedly) a rare, 1976 José Gonzalez poster which was limited to only 500. I have my doubts as to whether this is a genuine Warren item or an enterprising eBayer making a lot of money! I have only seen one person on eBay selling this poster, and he seems to have had a lot of them to sell!
He stated "I don't know if this was a publicly released poster or not. I was told that this poster was not 'up to par' with release standards at the time of its printing. [I] am not sure of its actual value, although I've been told the fair collector's value is somewhere between $200 - $450. The caption at the bottom reads as follows: Vampirella by Jose Gonzalez, WARREN PUBLICATION, Copyright 1976. Limited Edition of 500. The dimensions of this poster are as follows: 28 Inches high by 22 Inches wide. This poster is numbered 77/500 (not visible in photo)."
I wonder of they were all numbered 77/500? I decided to buy one, won the auction on eBay but the seller vanished before I paid for the poster...
Lucky escape, perhaps?
Mike Royer 'Topless' Poster
This appears fairly regularly on eBay, and if you buy one it comes in pristine condition on good quality thick paper/card. Too pristine a condition to be a thirty plus year old poster, methinks.
Whatever... this may be a reprint but it is still quite a nice poster, despite the possible controversy about one of the sketches showing Vampirella topless.
If anyone knows the truth about this poster please get in touch.
Warren Vampirella 23, 27, 52 and 74
These four posters were published in the 1970s by Warren Publishing and were available by mail-order only through the "Captain Company" advertised in the back pages of Warren publications like Famous Monsters of Filmland, Eerie, Creepy and Vampirella.
They were reproductions of the covers of Vampirella #23 #27, #52 and #74, measured 20 x 28" and had the Warren Publishing legal information at the centre of the bottom edge.
As mail order items they tend to be quite scarce in good condition.
Cathy Christian Poster
Cathy has the distinction of being the first Harris' model to grace a poster, and even decades on this is still a quite stunning poster.
Well worth getting one if you get the chance.
Sascha Knopf Poster
This was the first Vampirella poster I ever bought, and I framed it and hung it on the wall in my dining room.
One of my girlfriends took offense to it and demanded I remove it "or else".
Take it from me, a stunning Vampirella poster will outlast many girlfriends so make your position clear from the start.
Vampirella is forever.
Maria Di Angelis Poster
Not the best poster, but certainly one of the best models.
Harris put this out in the early 2000s, so you should be able to find a mint copy out there if you are patient enough.
Kitana Baker Poster
The model of the year for 2003 was Kitana Baker (the infamous Miller Lite cat fight girl).
This is a poster that came and went quite quickly, so is quite difficult to find these days.
San Julian Poster
A classic pose from the Warren era from a master of the paintbrush.
Very hard to find, but well worth the effort if you get one.
Enric Poster
Will add detail when I can get a photo...
Caesar Poster
This is an 11" x 17" promotional poster from 1995, signed by the artist Caesar.
Reputedly created by Harris Comics in 1995 to promote Caesar for the work that he was doing on Vengeance of Vampirella: Mystery Walk Zero which he inked and penciled.
A limited run printed on hard stock paper.
I cannot attest to the authenticity of this item, but I'm sure someone will be able to let me know.
Kelly Poster
Produced by Ken Kelly this poster looks really nice. I have a copy on order so I'll tell you more when it arrives!
Jusko Posters
Sad Wings of Destiny - photo and more info to come
Joe Jusko 40th Anniversary Poster
Joe was commissioned to create a poster for Vampirella's 40th Anniversary which he did with great passion, looking back over 40 years of her history.
Sadly, Harris was struggling with Vampirella at the time and Joe's masterpiece never went to print as a poster, though it was used as the cover for the slipcase of the 40th Anniversary Collection.
Hopefully, Dynamite Entertainment will reconsider Harris' decision and release this wonderful piece of art as a poster.
KISS/ Kitana Baker Poster
Details to follow when I can get a decent photo.
'The Movie' Poster
Considering how "successful" the movie was when it was released, I'm sure you can appreciate just how few of these posters are still in circulation.
This is possibly worth collecting merely for the picture of Talisa Soto, though I'm sure you will find it had to track down a copy in good condition.
Gennadiy Koufay
I have enthused enough about Gennadiy's work on his artwork page, so I will only say that if you buy one of his posters you won't be disappointed. The quality of his posters is the best there is from the artwork to the paper it is printed on.
"Poster Art"
Poster Art Prints produce a range of huge art prints which come in nine A3 sized sections, which when put together make one very large striking image.
The total size of the finished product is 35 x 49 inches / 89 x 125 cms! You would need a big wall for one of these "prints".
Up close you can easily see the coloured dots that make up the picture, but step back a few paces and the effect is amazing.
Promotional Posters
The poster shown on the right was issued in 1995 to comic book shops who (if they could be bothered) pinned it on the wall for a month or two and then chucked it away.
Harris sent out a number of similar promotional posters over the years (e.g. below), very few of which have survived intact.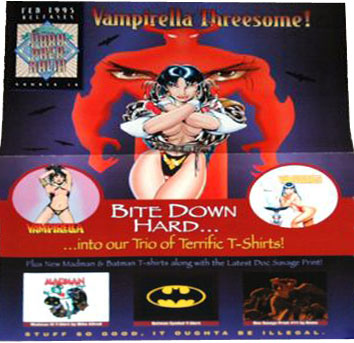 Though not desperately collectible, they are quite scarce... especially in good condition.
Porkepyn Posters
Lurking on eBay is a seller by the name of Porkepyn.
Porkepyn sells a number of Vampirella posters in various sizes featuring the art and imagery of classic artists Enric and San Julian.
The posters are very cheap and, I believe are home made with a good colour laser printer.
If you can't afford official/ original artwork then this could be a viable alternative.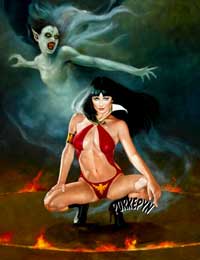 Wizard "Posters"
Also on eBay (and, I'm sure, elsewhere) a number of cheap "posters" are being sold which have a fold in the middle and staple holes. These are centre-folds from Wizard magazines and are basically magazine pages being sold as posters.
I don't consider these to be "posters" per se, and at $7.50 or more for each one I could probably get the whole magazine elsewhere!