More Vampirella Ephemera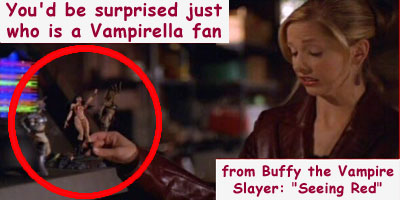 Play StaTion 2 Skin
Got a Play Station 2? Well, you can get a Vampirella PS2 skin to make it the coolest PS2 in your street!

Vampirella Plastic Fangs

Somehow I doubt that Harris actually sold these rather cheap, plastic vampire fangs.

You can buy these any in any corner shop at Halloween for a matter of few pennies/cents.

Despite the Certificate Of Authenticity, I do have my doubts ...

I have seen many a COA from Harris Comics, and this looks similar, but not similar enough to convince me to buy this as a genuine Vampirella collectible.

If you know different, please contact me.
Wood Burns

Basically, you take a nice piece of wood and burn an image into it using a variety of hot metal implements. In theory, quite simple. In practice, quite hard to do and produce a good picture.

I received an email about this wood burn ...

"I was browsing the net the other night and saw a wood burning I did years ago posted on your site. You can now confirm that the wood burn was indeed done by me. It was nice to see that there is a still a great picture of it out there.

Many Thanks for posting it on your site!
Craig Noss
www.fireflutes.com"

If you do any more wood burns, Craig, let me know and I'll post them here - you never know, someone might want a commission done!!!
More Wood Burns

I don't know who made these wood burns, but they look rather good.

The detail is excellent, and would look great as a wall plaque.
Pressed Paper Art

Coming from the various media of Tony Spangler, this may be unique in Vampirella ephemera.

There is a special name for this type of art, where course paper is pressed so a picture "emerges" from the blank paper - and, "No", I don't know what the form of art is called!

Whatever, this is a stunning and unusual piece of ephemera/art.
Pool/Billiards/Snooker Balls

D.L. Billiards have a novel take on bar sports, and a wide range of engraved equipment.

Included in their repertoire is a pair of cue balls enhanced with an image of a "sexy vampire pin-up girl". These are reputedly OK for Pool, Snooker and/or Billiards, though I don't think that Snooker and Pool cue balls are the same size ...

The top image is obviously the work of Claudio Aboy, and though the bottom image seems familiar I can't quite place the artist ...

A novel idea, and one that could take the whole merchandising concept into a whole new area.
Watch This Space ...
There's bound to more weird and wonderful stuff sooner or later!
PREVIOUS PAGE