B.C. Rich mockingbird Guitar
In 2003, B.C. Rich included in their "Body Art" range of guitars a Mockingbird edition with a picture of Vampirella on the body. Basically this is the standard Mockingbird design with the classic John Bolton rendition of Vampirella.

Fairly commonplace (thousands were made) you see these up for sale now and again starting from about £50.00 GBP (€80.00 EURO/$95.00 USD).

The Body Art Collection is a selection of limited edition electric guitars based on the company's "platinum series".

They were made over two years from January 2003 until December 2004. The classic B.C. Rich shapes were given a new look with various images. Each guitar in the series carries a unique serial number and a "limited edition" plaque on the reverse of the guitar, incorporated into the bolt-on neck.

The Vampirella variant was made in October 2003.

Though these are certainly highly collectable Vampirella items the holy grail for the Vampirella musician is the ...
Harris Comics Special Edition
Limited to only TEN, the BC Rich Mockingbird guitar is one of those Vampirella rarities that very few people will be able to own. Apart from the price - this is a real, working guitar not a toy - collectors like myself have to weigh up the cost of buying a guitar they can't play!
I suppose if I had one I'd make the time to learn to play it - there's no point in leaving it gather dust in a cabinet or cupboard somewhere ... These are extremely rare, and I have only found one for sale world wide, and that was on offer (in 2007) for $1,700 USD (£900.00 GBP/€1,500.00 EURO)!
Below is the official description from the Diamond Comic Distributors solicitation:
"Only 10 ever produced! This beautifully crafted Vampirella Widow Maker Guitar features John Bolton's masterful painting on BC Rich's Mockingbird body. Special exclusive features available only on this edition include a Widow Maker head stock featuring Vampirella lying on the logo, pearl inlay of the Vampirella bay emblem, as well as truss rod plate and rear neck bolt plate with Limited Edition engraved on it. This electric guitar is made with the finest materials which include an agathis body, maple bolt-on neck, rosewood fret board, BDSM pickups, and is 25.5 scale length. Also includes a guitar cable. Limited Edition of exactly 10. Will not be offered again!"
Anyway, on to the pictures ... (click for full size photos)
WARNING
There were only TEN of these made, yet they seem to come up on eBay every now and then - just a bit TOO often. Before you buy one make sure it is the real deal. There are a number of (genuine) B.C. Rich Mockingbird guitars out there which have the Vampirella picture on the body, but they are NOT the Harris Special Limited Edition.
These are the standard 2003 Limited Edition Body Art (Vampirella) Mockingbird guitars.
The "standard" versions are (fairly) common, numbering in the thousands. The Harris Specials are limited to only ten.
So how do you tell the difference?
Below are a couple of "very rare" Vampirella guitars I spotted on eBay. Though the main body looks identical the "neck" and the "head" (the bit where you tighten the strings) gives it away.
The head is a standard Mockingbird design; the Harris version has a special bat-style/Widow Maker head (look at the pictures above again). The writing on the standard head is the standard B.C. Rich signature; the Harris version sports a picture of Vampirella by Mike Mayhew from issue 1 of the 2001 monthly series. At the top of the neck, the Harris version has a pearl Vampirella bat logo inlaid into it; the standard Body Arts don't have the pearl inlay.
Finally, the original ten Limited Editions will have the Harris Certificate of Authenticity, and a simple "Made In China" stamp on the back of the head.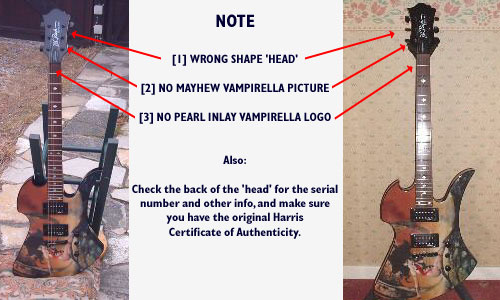 I have seen the standard editions advertised as being "limited edition of 10 - very rare", etc. I will give the sellers of these guitars the benefit of the doubt, and assume that they do not realise that the guitars they are selling aren't the extremely rare 2003 Harris Limited Editions. This very limited edition guitar was also used as a prize in a promotional competition, which is why you often see sellers overpricing the standard guitar as a "competition special".
As a rule of thumb, assume it is the standard Vampirella Mockingbird guitar, then check the fine details in case it is one of the extra rare Harris ones! If it is the Harris Special edition contact me immediately as I really want to get one!
I contacted B.C. Rich about these guitars and their reply is below:-
We appreciate your interest in BC Rich Guitars.
I passed your questions along to Rock Clouser, the Product Manager for BC Rich Guitars and here is his reply:
------------------------------------------------------------------------------------------------------
Unfortunately there are more and more fakes out there. Thanks for your efforts to track down the truth about these guitars. Here is the story. As you may or may not know, Vampirella is the property of Harris Publications. The 2003 collection of Body Art guitars included one mockingbird with the Vampirella image. There are many (few thousand) of those currently in the field. However, as part of the special agreement with Harris Publications to utilize the Vampirella image, there were 10 special guitars made. I have attached a picture of that guitar.

You are correct, it is very close to the BCR Body Art version. But it does have these differences:
First fret inlay of the Vampirella symbol.
The Vampirella picture between the pegs on the head stock.
The B.C. Rich logo across the end of the head stock and Harris requested for these 10 special guitars for them, we use our widow head stock.
The widow head stock on a mockingbird is extremely rare. Other than these guitars, we have never done it on an import guitar.
The 10 special guitars were sent to Harris Publications in late 2003-2004. They were their property to sell or give away as they as they wanted. I believe they were going to use them at comic book conventions to promote the Vampirella character. (But that may or may not be the case).
Now if these guitars you are seeing have all of these oddities mentioned above and there are plenty of them, then obviously they are fakes.
I hope this information helps you. Thanks for your interest in BCR.
------------------------------------------------------------------------------------------------------
Thank you for supporting BC Rich Guitars.
The BC Rich Staff

Addenda: October 26th 2008
Let me state unequivocally that I am NOT a musician. My musical talents are somewhere on a par with a caveman picking up two rocks and banging them together while making deep and meaningful grunting noises.
Over the past four years I have kept my eyes on eBay and have seen a few Vampirella Mockingbirds come and go, usually making a bid within my budget but being outbid by a musician who wants a working guitar and not a wall ornament!
Last week I saw a Vampirella guitar come up on eBay, and it was from a UK seller so the postage costs were very reasonable (compared to $200+ to post a guitar from the USA/Canada to the UK).
To cut a long story short, I won the guitar and discovered to my amazement that the seller lived within 1 mile of me!!!!!!! How weird is that? Within 15 minutes of winning the guitar I was holding it in my hands.
Maybe this confirms the old adage that "what's for you won't go by you".
Now I have to get hold of an amplifier, strap, leads and a few other bits and then all hell will break loose as I try to learn to play the guitar (I refuse to hang it on the wall and just look at it!).
Pity my neighbours, my cats and my partner over the next year or so as I attack my new "axe" with gusto! Ear plugs are a must.
So be afraid ... be very afraid.
Unofficial Vampirella Guitar
Not all "Vampirella" guitars were made as such. Some people just love our Vampirella so much that they give their guitars a new look to suit ...
I found this on eBay a while back.