Exotic Seamstress Costume
Lurking in the depths of the USA is a small outfit called Exotic Seamstress .
In their portfolio of costumes they have a rather good selection of Vampirella kit available in both PVC and Lycra (see right).
Crimson red Lycra suit attaches to white 100% cotton collar with gold O-ring. Gold bat emblem on front of suit. Collar snaps onto O-ring for ease in removing suit. (Boots not included) ... Size can be adjusted to suit.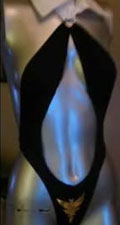 It would seem that the costume is also available in black! I always thought that black would be a good colour for an alternative Vampirella costume, perhaps for evening wear or funerals. Certainly it was the colour of choice of Draculina in the 2008 Vampirella Monthly series.
Maybe it would be a costume that Wednesday Addams would wear when she grew into a woman ...
A quick "Thank You" to Brenda for the photos.